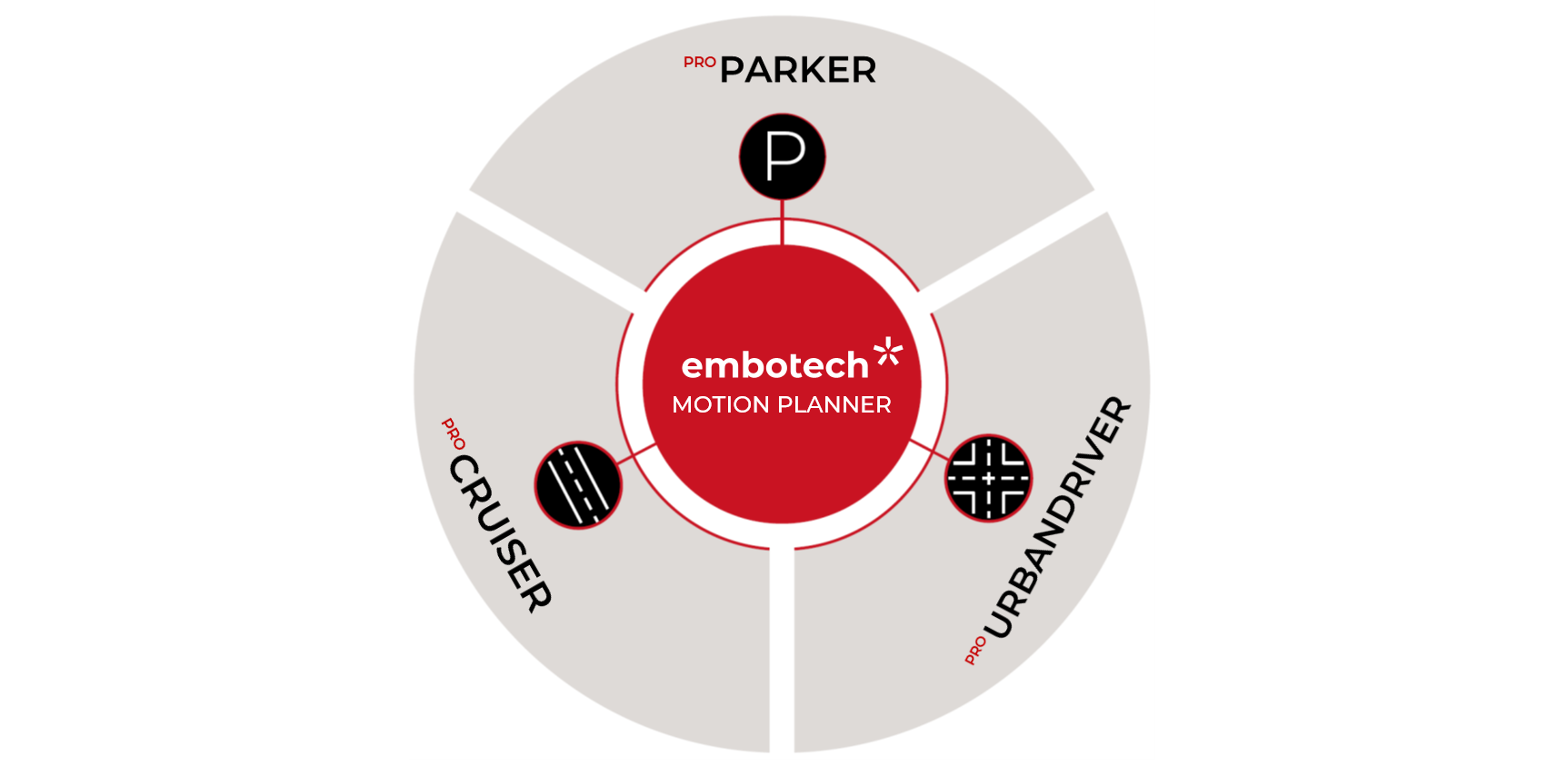 EmbeDded Automotive motion planning products
Embotech's motion planning product uses FORCES PRO as a solver at its core. The characteristics of FORCES PRO – small code size, extremely low runtimes and low computation needs – make the motion planner ideal for embedded Autonomous Driving solutions. On top of this solid foundation, the Embotech team has utilised its considerable expertise in automotive engineering in order to create safe and reliable state-of-the-art motion planning software.
This software comes in 3 modules:
ProParker, a low speed manoeuvrer (demonstrated, ready for serial release),
ProCruiser, capable of any highway driving situation including at the limits of handling (demonstrated, ready for serial release) and
ProUrbanDriver, capable of handling more complex urban scenarios (under development).

All modules work with any combination of AD stack, are compatible with all standard automotive electronic control units (ECUs) and they are certifiable,  customizable as well as vehicle agnostic.
1. PROPARKER: low speed maneuvering
ProParker supports low-speed maneuvering for up to 30km/h, is able to avoid moving obstacles real-time and parks any vehicle successfully irrespective of the orientation of the parking position. This is achieved generically, without pre-programming any specific parking cases.
The software is capable to perform complex maneuvers with the highest accuracy, replanning to avoid moving obstacles. It operates equally well for small vehicles as it does for trucks with trailer. And all that while offering a comfortable and smooth driving experience. Due to its accuracy, it is ideal for parking in narrow spaces or for parking electric vehicles to charging stations.
The ProParker has already been tested in a number of POCs while it is also the basis for our infrastructure-based multi-car coordination solution. Below a system diagram showing the position of the ProParker in the AD stack and a simulation showing the ProParker parking in a tight spot with a trailer.
Please contact us at sales@embotech.com for more detailed information including interface spec, user's manual and real life videos.
ProParker – System Diagram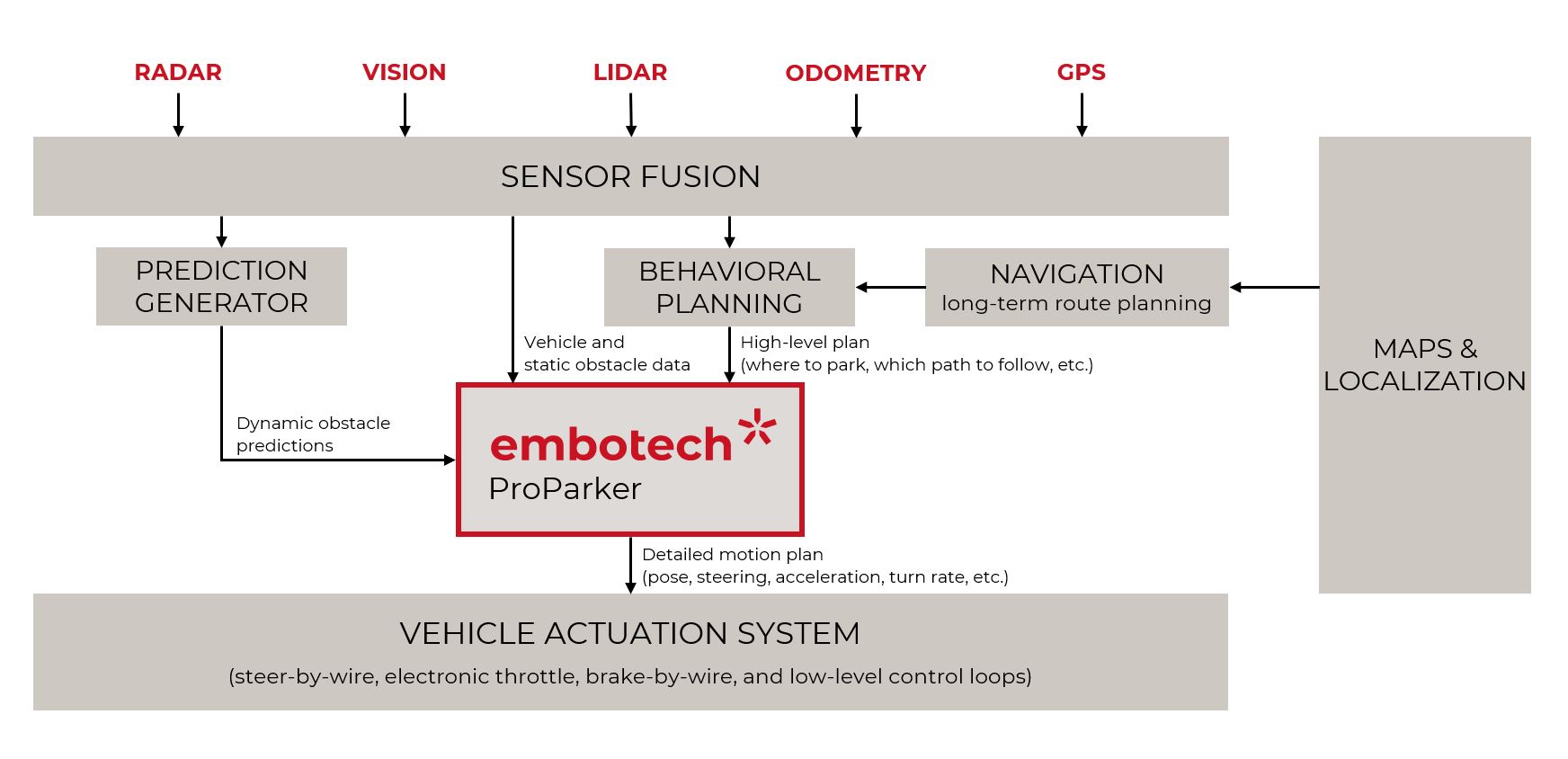 Video (Simulation): ProParker parking Truck with trailer.

ProParker is capable to perform complex manoeuvres generically, without any pre-programmed situations.
2. ProCruIser: High speed Motion Planning
HIGHWAY DRIVING: Built upon the same FORCES PRO-based state-of-the-art real-time optimization technology, the ProCruiser is a physics-based high-speed motion planning software module capable of all standard functionality such as Lane Change Assist (LCA), Automatic Cruise Control (ACC), Traffic Jam Assist (TJA) and additionally capable of handling emergency situations at the limit of handling such as Emergency Braking (EM), Double-Lane Change (DLC) manoeuvres, Emergency Safe Stop (ESS), etc. This functionality is not preprogrammed; the ProCruiser uses accurate vehicle models, environment models and predictions to solve a complex optimisation problem in order to generate a 12D trajectory to be followed.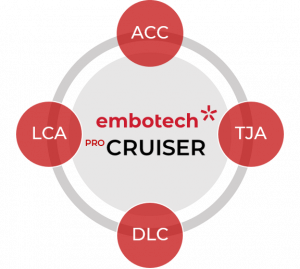 The ProCruiser plans smooth driving trajectories delivering exceptional passenger comfort.  It is based on a deterministic mathematical approach and easy to adapt for future vehicles.
RACING: Furthermore, building on the experience we have gained through competitions ProCruiser can be tuned for demanding race track driving. This allows brands with a racing-performance pedigree to offer an unparalleled experience to their clients. The ProCruiser warrants both, a high level of excitement and safety at the same time.
Below a video simulation showing the ProCruiser running on NXP's Bluebox new generation autonomous driving hardware.
Please contact us at sales@embotech.com for more detailed information including interface spec, user's manual and real-life videos.
Video (Simulation): ProCruiser running on NXP Bluebox around the Monza track.

ProCruiser, among other, can be used to optimise lap time and evaluate new engineering concepts on existing vehicles.
3. Tracking with forces pro
Apart from the advanced motion planning modules described above, Embotech also offers automotive clients a solution to use FORCES PRO as an effective and accurate solver for trajectory generation and tracking. This is a popular customer choice in cases where motion planning solutions (high-level decision making, path planning) have been developed internally.
FORCES PRO is C-code tailored – for deployment on embedded systems, extremely optimized for memory and speed, reliable and MISRA-C compliant.