Forces Pro - REAL-TIME DECISION MAKING SOFTWARE
FORCES PRO software empowers autonomous systems to make better decisions by solving complex optimization problems in milliseconds. The numerical software developed by Embotech is designed for fast real-time decision making and enhance the computational performance of Model Predictive Control (MPC) applications. Based on advanced code-generation techniques, it is capable of solving complex motion-planning problems as well as other industrial optimal control challenges. FORCES PRO brings significant improvements in safety, productivity and energy efficiency. Current applications include automotive motion planning and energy management, guidance/motion planning for spacecraft, wind turbine pitch control, sheet metal laser-cutting/bending optimization, robotic arm motion planning optimization and many more.

How it works
FORCES PRO enables users to generate advanced embeddable solvers from a high-level mathematical model describing real-world physical systems. Our technology is based on state-of-the-art numerical optimization algorithms.
ADVANTAGES
High performing: Most efficient commercial code for optimization on smart machines.
Embeddable everywhere: The only optimizer so small that it runs on any commercial platform.
Easy-to-use interface: Matlab and Python interface.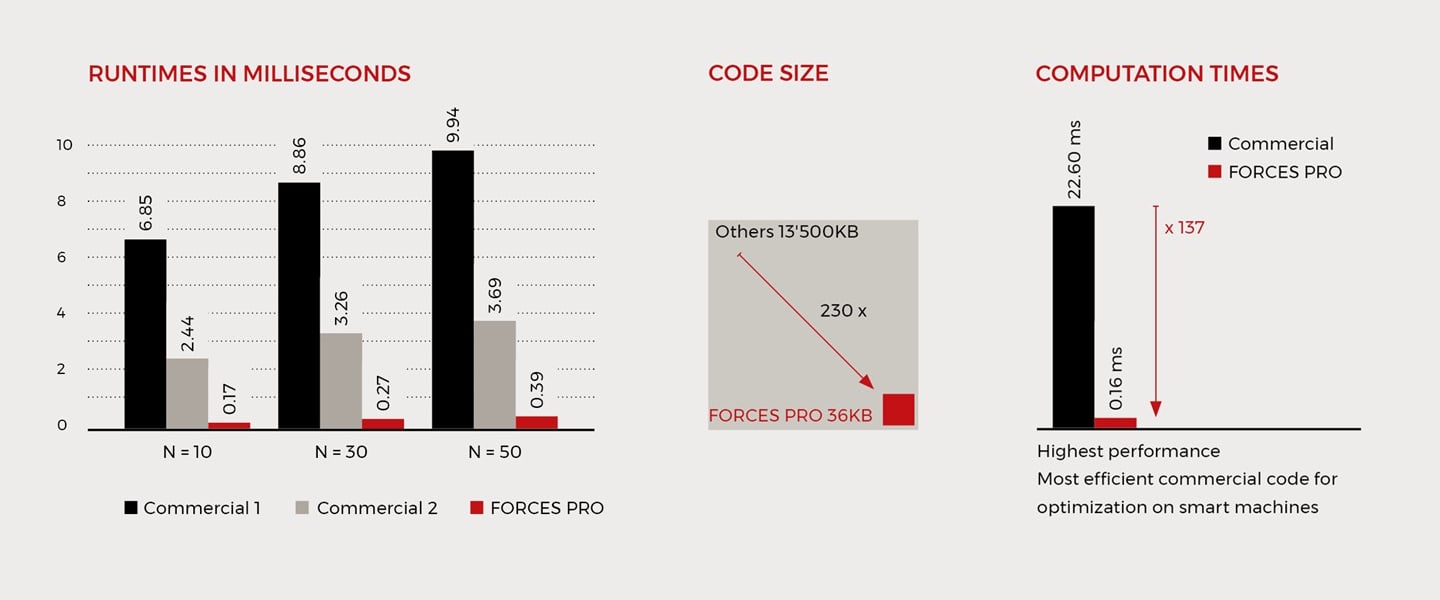 Windows/Linux/MacOS
NVIDIA Drive PX2
ARM Cortex A7, 8, 15, 53, 72 etc.
NXP S32 (Blue Box)
dSPACE MicroAutoBox II
Speedgoat
Greenhills Integrity
Bachmann
National Instruments cRIO
… other platforms upon request
C code tailored for deployment on embedded systems
No dependency on external libraries
Wide range of algorithmic options including NLPs
Static memory allocation
MISRA-C compliant
Platform-specific optimizations
Extremely optimized for memory and speed
Want to test FORCES PRO?
Our new Customer Portal will be here soon. In the meanwhile, please use our license request form to acquire a test license.