PRODRIVER is a family of products, all based on the same algorithmic philosophy. Each product, however, specializes into different functionalities and markets. Below is a table that summarizes the main characteristics of each.
Product Family
PRODRIVER
Application
Public roads
Gated areas
Product
Car
Truck
Pod
Special vehicles
Off road
Logistics
Testing
Structured and unstructured space driving
Generates energy efficient speed profiles

optional

optional

 
 
Coordinates multiple vehicles
 
 
 
 
Public roads certified (from Q3 2022)
 
 
 
 
Gated areas certified (from Q3 2021)
Drives unconventional vehicles
 
 
 
 
 
 
PRODRIVER is a ground vehicle motion planning and motion control software based on numerical optimization. By using physical mathematical models of the vehicle and by representing the driving requirements as mathematical expressions, the motion planning problem is translated into an optimization problem that is solved continuously. Trajectories are therefore updated in real time and fast enough to guarantee safe reaction to moving obstacles and seamless driving performance. Below are some of the main characteristics of PRODRIVER. 
Built on state-of-the-art MISRA-C compliant real-time optimization technology (FORCESPRO)

Capable of planning complex maneuvers at the physical limits, delivering smooth driving trajectories and passenger comfort

Fast adaptation to future vehicles – no machine learning or vehicle training required

Deterministic mathematical approach based on physics, allowing for easier certification

Same motion planning core for all ADAS/AD functions – from ACC to full autonomy

.
protect: OUR SOLUTION TOwards ISO26262 certification
PROTECT is our solution to meet the requirements of the road vehicle functional safety standards (ISO26262). We have started the certification process in Q4 2019, and we expect PROTECT to achieve the Automotive Safety Integrity Level (ASIL) B in Q3 2022, and the ASIL D in Q3 2024.
PROTECT is a downstream component that validates one or multiple trajectories (generated via one, or many redundant motion planners) and only send validated commands to the vehicle's actuators. Because it is a certified component, PROTECT removes the extremely hard requirement of certifying the complex motion planning software, which will only need to be Quality Managed (QM).

PROTECT is used in conjunction with PRODRIVER, to provide certification, as well as redundancy via an independently developed motion planner that generates backup trajectories.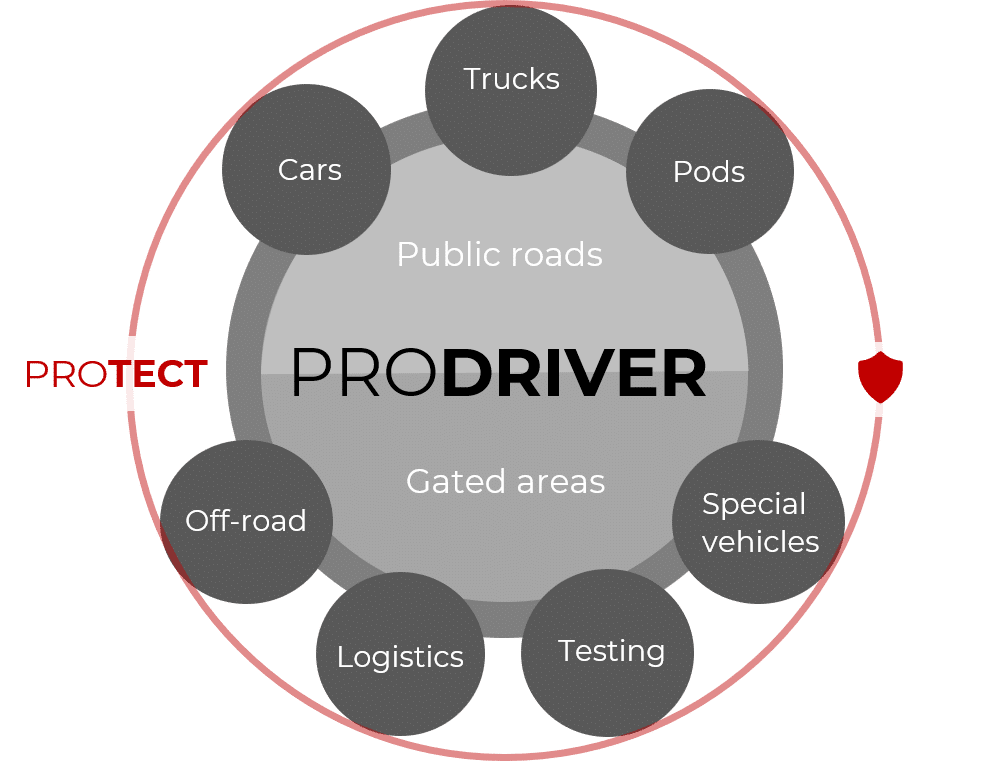 Looking for more information?
If you'd like to find out more about PRODRIVER, let us know. Either use the webform on the right or book a meeting via the link below. Our team of experts will be happy to discuss more details with you.