Great feedback for CTO Alexander Domahidi's talk on "Motion Planning at the physical limits".
Our CTO delivered his talk at last week's Autonomous Vehicle Software & AI Symposium in Stuttgart, one out of three conferences where it was all about Autonomous Vehicle Development. This symposium – held alongside with the Autonomous Vehicle Test & Development Symposium as well as the Autonomous Vehicle Interior Design & Technology Symposium – delivered exciting discussions about sensor fusion, machine learning, cyber defense and many more. Among these topics Motion Planning appeared as a niche area and as such stood out. It was obvious that the talk had attracted the audience's attention as many were visiting our booth afterwards, eager to learn more about Embotech's activities in this field.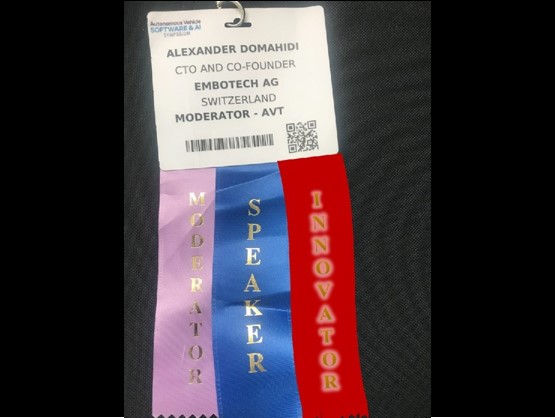 Our booth, displaying Embotech's Motion Planner running on NXP's Bluebox, was part of the Autonomous Vehicle Technology Expo with over 90 exhibitors participating. They were showcasing the latest product launches and innovations such as simulations, testing and mapping. The exhibition was co-located with the Automotive Testing Expo and the Automotive Interiors Expo. Thus, in total, over 800 automotive exhibitors were presenting in Stuttgart during 3 days.