What
Fast and realiable numerical solution of your mathematical optimization problem
Automatic generation of efficient solvers that run on any hardware platform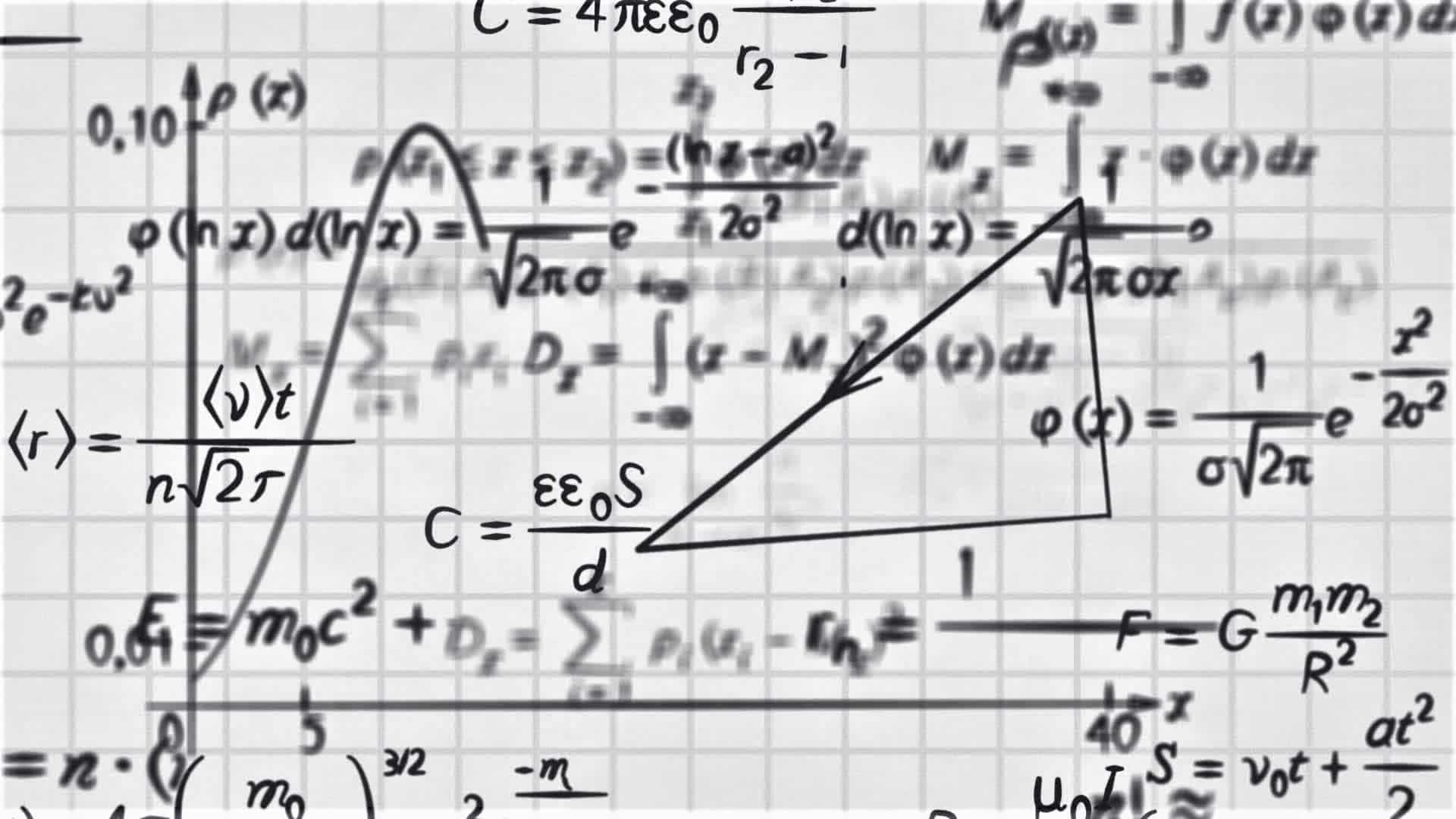 How
Automated specifications-to-software: User defines the problem and FORCESPRO generates a tailored, embeddable mathematical algorithm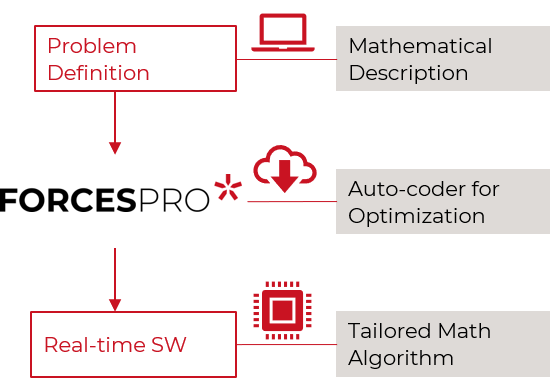 Applications
Model Predictive Control
Embedded Optimization
Decision making
Path Planning
Fully autonomous systems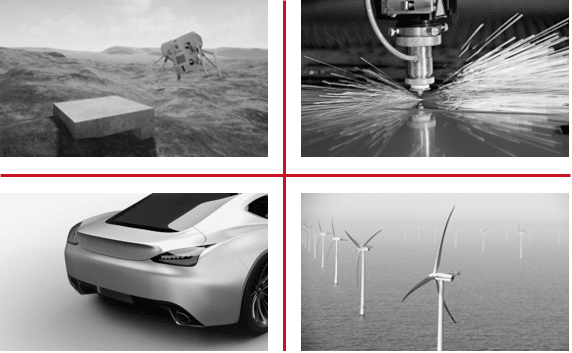 advantages of the FORCESPRO solver
Fastest solver
available for embedded optimization problems
Small memory size of the code makes it embeddable
Runs on any hardware platform
Reliability allows application for fully autonomous systems
Trusted by many customers for serial applications
Integrated in
MathWorks Model Predictive Control Toolbox™
MISRA-C compliant
Embotech can assist you with the certification process
Developed by a professional team for more than 10 years
Zurich-based support team to answer your questions
Your solution for MPC and embedded optimization

FORCESPRO enables users to generate tailor-made solvers from a high-level mathematical description of an optimization problem. The numerical software is designed specifically for the purpose of fast, embedded optimization. Our technology is based on cutting-edge numerical optimization algorithms that allows solving complex optimization problems in milliseconds. The algorithms are developped specifically for the mathematical structure of optimal control problems, which makes it the fastest solver.  Simultaneously, the solvers generated have a very small code size that can be embedded on any hardware platform. The solver has superior robustness properties which is the corner stone for the employment to autonomous systems. All these properties make FORCESPRO the best choice for Model Predictive Control (MPC) as well as other embedded optimization and decision making problems. FORCESPRO is the industry standard for embedded optimization problems: it is trusted by many companies worldwide and has already been applied to a wide range of applications. For instance, it has been successfully used for automotive motion planning and energy management, guidance/motion planning for spacecraft, wind turbine pitch control, sheet metal laser-cutting, robotic arm motion planning and more. In these applications, FORCESPRO brings significant improvements in safety, productivity and energy efficiency.
EXEMPLARY PERFORMANCE OF FORCESPRO
Benchmark of a Nonlinear MPC optimization problem for a DC motor with prediction horizon N=105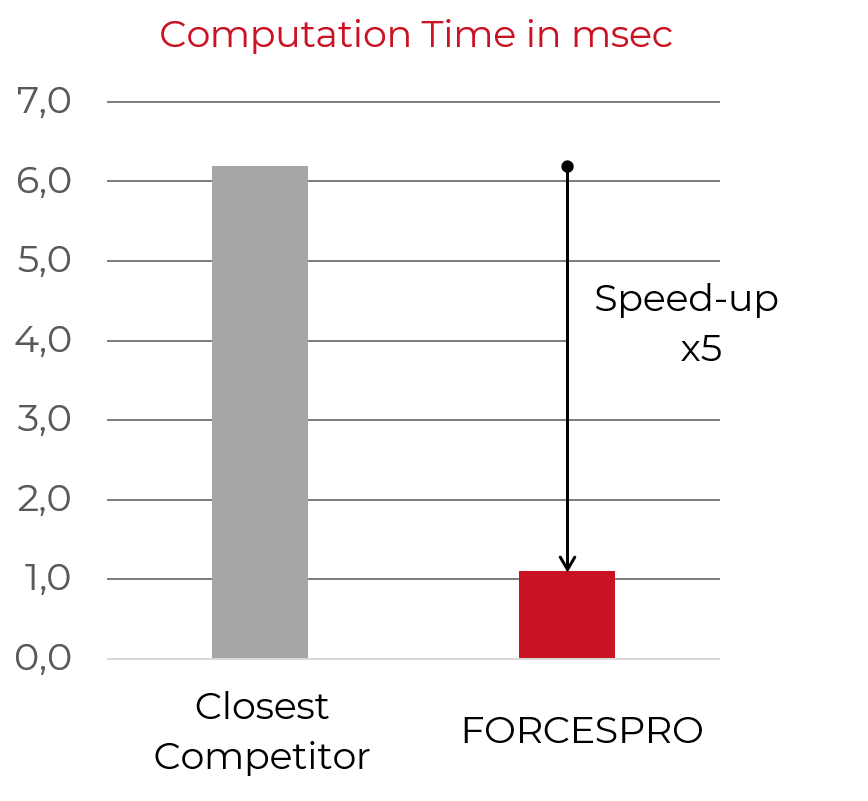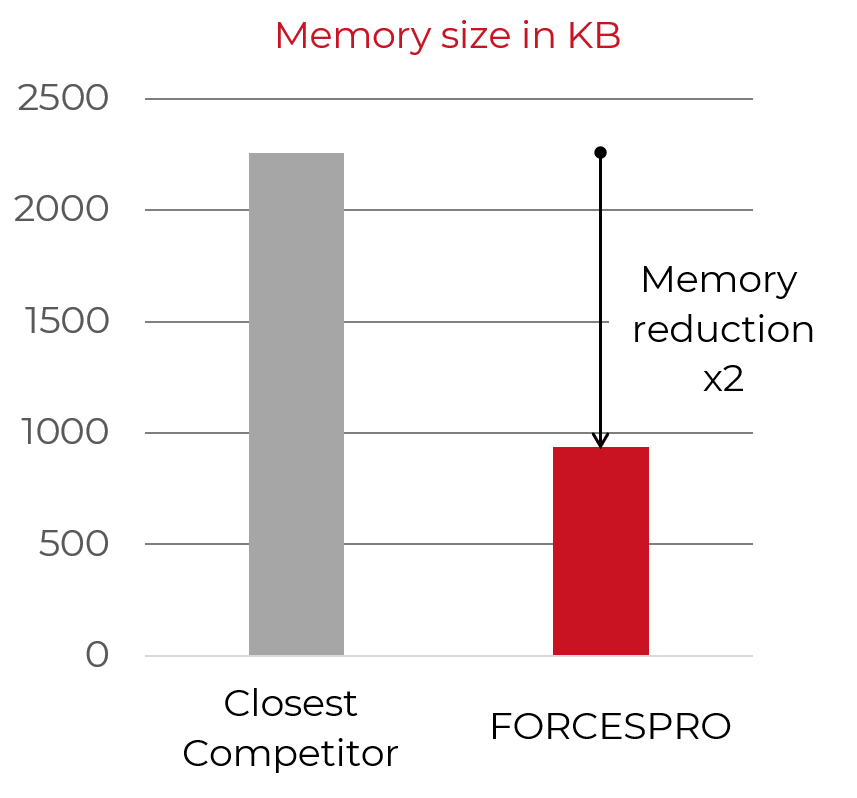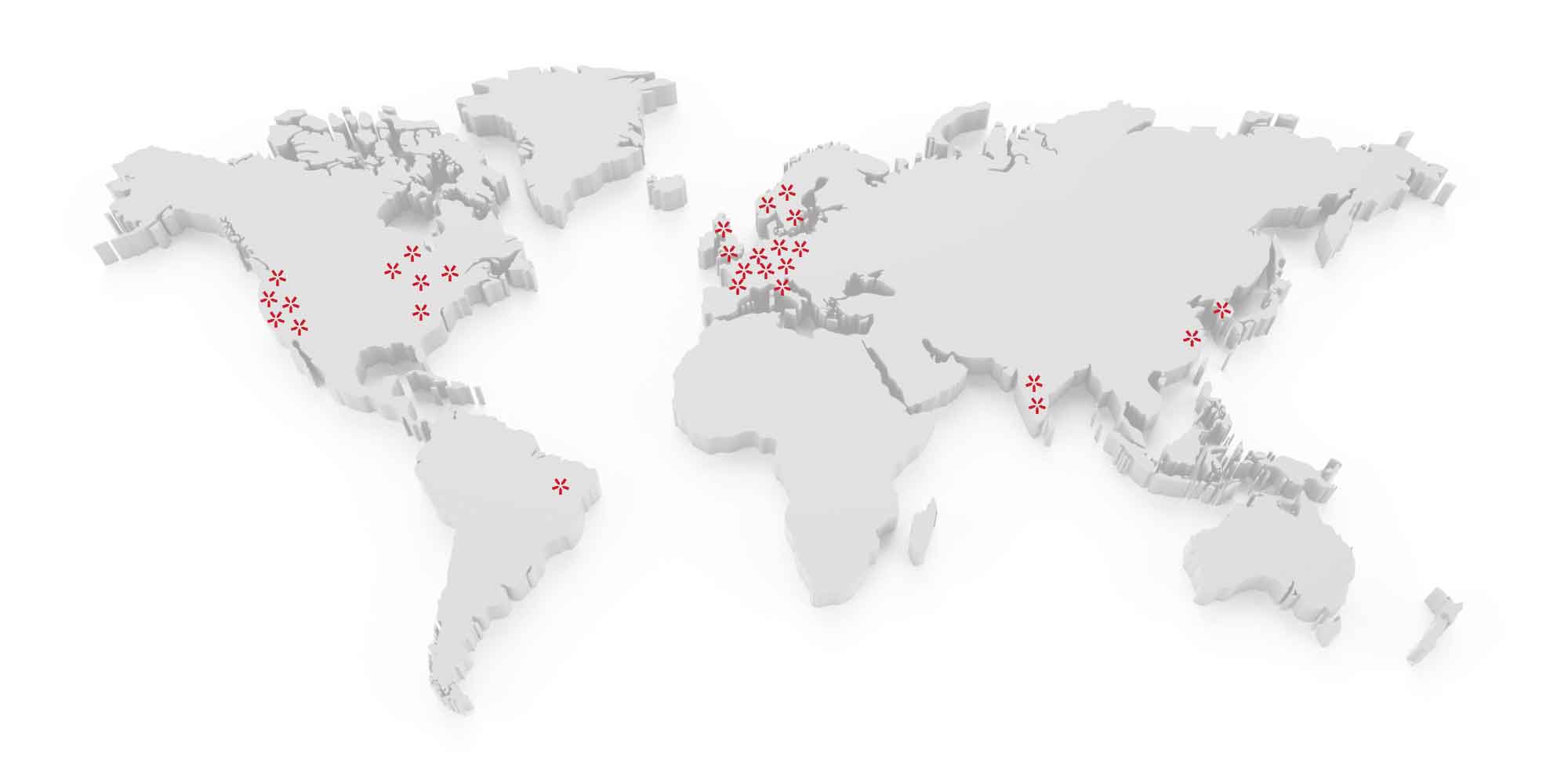 At Embotech we are committed to working in close cooperation with our customers and partners. With many companies year-long partnerships have been established. We value their feedback, that makes our product increasingly better. The companies we work together with are as versatile as the fields of applications of FORCESPRO. They span from large automotive OEMs, to automotive Tier1 suppliers, to wind turbine manufacturers, to machine tool manufacturers, to IT companies as well as to space agencies. The vast majority of our customers are under NDA. Still, see above in which countries FORCESPRO is actually applied. Find below some impressions of a small sample of people that we work closely together with concerning FORCESPRO.
What our customers say
"We were impressed by the robustness and performance of FORCESPRO on our standard AC500, and by how easy it was to integrate the new controller into the existing software stack."
Dr. Kim Listmann, Senior Scientist, ABB Corporate Research Center, Ladenburg, Germany
"For us, FORCESPRO combines a state-of-the-art solver with easy integration in existing software such as MATLAB and Simulink for simulation and code generation, as well as excellent support. We are impressed by the team's flexibility to help and to include special features on our request."
Tobias Gybel Hovgaard, Control Specialist, Vestas Technology R&D, Denmark.
"The code generator FORCESPRO enabled us to achieve real-time performance of the model based controller on a production wind turbine control platform, saving us significant embedded software development efforts."
Marc Guadayol, Wind turbine control engineer, Alstom Barcelona, Spain
Looking for more information?
If you'd like to find out more about FORCESPRO, let us know. Either use the webform on the right or book a meeting via the link below. Our team of experts will be happy to discuss more details with you.